Watch the Video Clip
[Contact us for full version]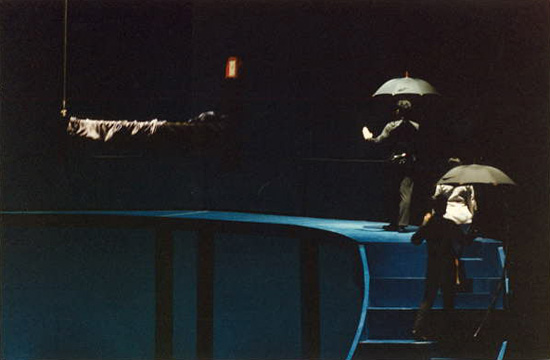 Presents
Mortal Sins
In 1996, there is Jacqueline Atria. Newly-appointed President of the Singapore Censorship Council and the nation's moral guardian.

And in 1960 there is Rosy. Striptease queen and star attraction of the seedy Eden Nightclub.

A strange twist of fate brings the two women together.

Slipping between her own sterile 90s world and that of the seductive 60s, Jacqueline finds herself spellbound by the spirited Rosy, and begins and obsessive search. Is the striptease queen merely a figment of her imagination or does Rosy really exist? Only time can tell.

Playwright
Michael Chiang

Composer/Lyricist
Dick Lee

Director
Ong Keng Sen

Choreographer
Najip Ali

Music Direction/Arrangement
Iskandar Ismail

Film
Eric Khoo of Zhao Wei Films

Set
Myung Hee Cho

Lighting
Scott Zielinski

Costume
Woon Chor

Sound
Mike Walker

Choral Master
Eric Watson

Hair
Ashley Lim

Make-up
Joseph Ng

Print Design
Generator Creative

Producer
Tay Tong

Performers
Jacintha Abisheganaden
Wendy Kweh
Noorlinah Mohamed
Gani
Juwanda Hassim
Emma Yong
Richard Chia

Chorus
Michael Ang
Leroy Bakar
Claudine Chan
Chong Tsung Wen
Lionel Choi
Jeremiah Choy
Louise Terry-Clark
Sharmini Fernando
Edric Hsu
Patricia Klouth
Zainal B Jaffar
Shuko
Sharon Lim
Jackie Low
Low Kee Hong
Pamela Pung
Pamela Oei
Paul Sim
Dianne Swee
Grace Teo
Natalie Wiedmer
Wong Sheng Kwai

Musicians
Bang Wenfu
Chu Wee Yong
Wendel Chua
Din Safari
Foong Tak Hoy
Iskandar Ismail
Jimmy Lee
Lim Yeow Siang
Terrence Seah
Tan Chin Boo
Terrence Teo
Dominic Wan
Eric Watson


5 – 12 November 1995
The Kallang Theatre
Singapore