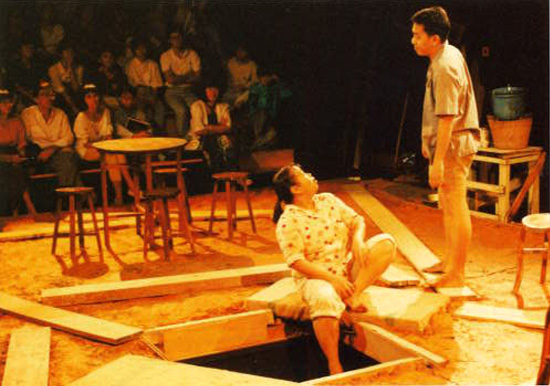 Presents
The Retrospective
A Festival of Singapore Plays 1960 - 1990

The Moon is Less Bright
The Moon is Less Bright was written in 1963 and first staged by The Lotus Club, University of Singapore.
Hope dims in the lives of a vegetable farmer and his family when Singapore is invaded by the Japanese during World War II. Relatives from the city escape to his farm and their differing lifestyles and aspirations test the faith of his two sons.
Goh Poh Seng also wrote two other plays in quick succession, The Room With Paper Flowers, believed to be the first to use Singlish in its text and The Elder Brother, staged in 1996. Thereafter, Goh turned to poetry and the novel.
Playwright
Goh Poh Seng
Director
Ong Keng Sen

Set
Ong Keng Sen
Lucilla Teoh
Tay Tong
Lighting
Kalyani Kausikan
Janette Ang
Costumes
Tay Tong
Lucilla Teoh
Performers
Tay Bin Wee
Nora Samosir
Lee Weng Kee
Lim Yu-Beng
Lim Kay Siu
Neo Swee Lin
Tan Kheng Hua
Lok Meng Chue
Tann Yean
7 – 10 November 1990
The Black Box Theatre
Singapore