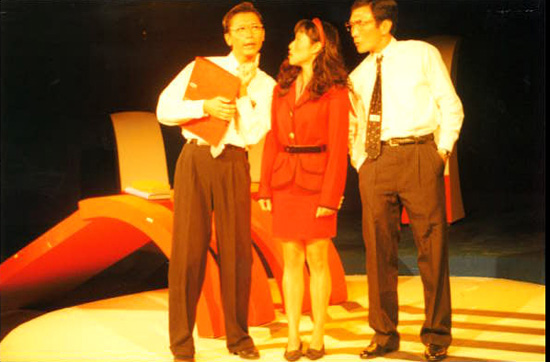 Presents
Undercover
Undercover, written by Tan Tarn How and directed by Lok Meng Chue, is set in a fictitious country's fictitious intelligence department. It revolves around the Head of the Department, his Deputy and their new intelligence agent, Jane, the first female in their department.
Jane is sent on an undercover spy mission to infiltrate an alleged subversive "charitable" organisation known as the Centre. The Centre is led by a smooth and suave Oxford scholar, Qiang. Soon, Jane falls in love with Qiang.
Meanwhile, the Deputy, in an attempt to overthrow his head, is taking notes of the head's misdeeds.
Undercover is a farce about ambition and ego. It highlights one very basic human flaw – the inability to trust other people and the need to exert one's power over another.
The play will leave the audience guessing as to who is after who and who is really the undercover agents.
Playwright
Tan Tarn How
Director
Lok Meng Chue
Set
Adi Yadoni
Lighting
Yo Shao Ann
Sound
Tan Choon Ping
Producer
Tay Tong
----------
Performers
Danny Jow
Wendy Kweh
Casey Lim
Lim Kay Tong
Sharon Lim
Benjamin Ng
Tan Kheng Hua
17 November – 4 December 1994
The Black Box
Singapore