KYTV (Kill Your Television)
Kill Your Television (KYTV) was formed in early 2002. Based in Singapore it is best known for its performance art projects. In 2003, they embarked on several projects in collaboration with other groups like FUNdaMENTAL Multi-Disciplinary as well as dance company Arts Fission.
KYTV is the brain-child of Aaron Kao, Jeremy Sharma and Rizman Putra, graduates of the LASALLE-SIA College of The Arts, Bachelor of Fine Art degree programme. Besides being deeply rooted in a visual art foundation, they make music together in a band called TIRAMISU. KYTV was formed because they wanted an outlet to explore other artistic interests other than music and visual arts. Their concept for KYTV is to explore the boundaries of various art forms like writing, movement, music, painting, videography etc and to create new works. Since the birth of KYTV, this collective has become well known performance art practitioners in Singapore.
At present, KYTV are Aaron Kao, Rizman Putra, Jeremy Sharma, Dovan Ong, Choy Ka Fai and associate artists (Jon Chan, Serena Ho and Vijay Singh).
Biosampler
Biosampler is a collective multimedia performance group, involving seven visual and sound artists, founded in Bandung in 2001. We explore lights, sounds and spaces, through various projections and digital music equipments. We use to perform in public spaces such as tunnel, library space, warehouse, art gallery, and also clubs.
Apart from organizing our own performance, we also collaborate with others such as theatre group and local DJs and bands. From rave party, art exhibition, theatre and dance performance, live band performance, etc.
Every space is a stage, and everyone is a performer.
Biosampler are:
Sulasmoro, Pumpung, Xonad n.g, Niang, Iweng, Gustaff and Khemod.
Teater Garasi
Teater Garasi was founded on December 4,1993 by Yudi Ahmad Tajudin, Y. Kusworo Bayu Aji and Puthut Yulianto, who were then students at the Gadjah Mada University in Yogyakarta.
Although initially a campus-based group, the founders agreed not to limit their creative activities to the university setting. Assisted by Yudi Ahmad Tadjudin who had at that stage already worked creatively with various Indonesian artists, Teater Garasi set out to engage and interact with the 'artistic field' in as broad a sense as possible.
This orientation complemented the group's desire to continue developing its technical competence and aesthetic vision.
In 1999, Teater Garasi ceased its affiliation with Gadjah Mada University and is now an independent theatre group committed to being a Laboratory for Theatre Creations. Its vision is to become a laboratory of contemporary theatre creations based on research, exploration, experimentation, and evaluation of each creative work. Teater Garasi's work departs from and builds on many existing art traditions.
Joei Apichatpong
Born in 1970 in Bangkok, Apichatpong Weerasethakul (Joei) grew up in Khon Kaen, located in the northeastern part of Thailand. He has a degree in Architecture from Khon Kaen University and a Master of Fine Arts in Filmmaking from The School of the Art Institute of Chicago. Since he began making films and videos in the early 90s, he has become one of the few filmmakers in Thailand who have worked outside the strict Thai studio system. He is active in promoting experimental and independent films through Kick the Machine, the company he founded in 1999.
In 2000, he completed his first feature-length film, MYSTERIOUS OBJECT AT NOON, a documentary which earned an enthusiastic reception, including being listed among the best films of the year 2000 by the US publications Film Comment and The Village Voice.
His second feature, BLISSFULLY YOURS, received the Un Certain Regard prize at the 2002 Cannes Film Festival. The film also received top prizes from the Thessaloniki Film Festival (Greece), Tokyo Filmex (Japan), Buenos Aires Film Festival (Argentina), Singapore Film Festival, and Rotterdam Film Festival (Netherlands).
His third feature, shot digitally, THE ADVENTURE OF IRON PUSSY, was a collaboration with an artist Michael Shaowanasai. The film was tribute to Thai cinemas and soap operas in the past. The film has been shown at several film festivals and was already considered a cult classic.
TROPICAL MALADY was Apichatpong Weerasethakul's fourth feature. It received a Jury Prize at the 2004 Cannes Film Festival.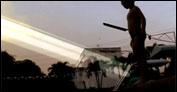 Araya Rasdjarmrearnsook
Araya Rasdjarmrearnsook received her MFA from Silpakorn University, Bangkok, in 1986. She has exhibited her sculptures and performance-related videos and photographs in solo exhibitions, including: Lament, Tensta Konsthall, Stockholm (2003); At Nightfall Candles Are Lighted, Chulalongkorn University Art Gallery, Bangkok (2000); Lament of Desire, ArtPace, San Antonio, Texas, and the Faculty of Fine Art Gallery, Chiang Mai, Thailand (1998-99); Printmaking and Drawing, Atelier Forsthaus, Gifhorn, Germany (1990,1991); and Small Graphic, Goethe Institute, Bangkok (1987). She has had numerous solo exhibitions at National Gallery, Bangkok, including: Why Is It Poetry Rather than Awareness? (2002); Lustful Attachment (1995); Water Is Never Still (1994); Stories in Room (1992); and Graphic Notes (1987).
Group exhibition include: Poetic Justice, 8th International Istanbul Biennial (2003); Parallel Time, Hangzhou, China (2003); Time after Time, Yerba Buena Center for the Arts, San Francisco (2003); EV+A 2002, Limerick, Irland (2002); Small World, Silpakorn University Art Gallery, Bangkok (2002); Unfolding Perspectives, ARS 01, KIASMA Museum of Contemporary Art, Helsinki (2001); Deserted and Embraced, Railway Hotel, Chiang Mai, and the Goethe Institute, Bangkok (1997-98); 10th Biennial of Sydney (1996);Traditions & Tensions, Queen's Gallery, New York (1996); 1st Johannesburg Biennial, South Africa (1995); Vision of Happiness, Tokyo (1995); 1st Asia-Pacific Triennial, Brisbane, Australia (1993); 20th International Biennial Exhibition of Graphic Art, Ljubljana (now Slovania) (1993).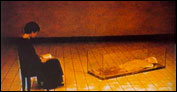 Venzha & The House of Natural Fiber
Venzha wants to have a limitless space to in order to carry out various experiments towards the ideas encountering his vision. Along with Irene Ira Agrivina, Istasius and Tommy Surya, they began to work together and respond to great ideas in their community. Venzha is an interior designer who is a UFO and technological maniac. Ira is a fashion designer who likes reading and writing poems. Istasius is a graphic-designer who is skillful in comics. Tommy Surya is a web master who spends his whole life in front of the computer.
The basic idea is to communicate about new media that focus on limitless ideas and neglect the concept as to whether it belongs to the art scene or not. According to Venzha, everything can be an art and everyone can make a work of art in various forms and definitions.
The House of Natural Fiber was a name created by Venzha. It is a place to share ideas, to make something real while being useful to people and the surroundings. There are several names who are involve such as Yusdi, Fajar, Bagus, Mario, Jenggot, Daniel, Liya, DJ Belly, DJ Sonny, Dina, Gentur, Haris and many more.
"In my work I attempt to present artistic dimensions that have already been introduced to the mind of the community, without limit and condition" - Venzha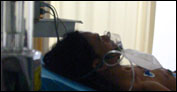 Lim Kok Boon
Lim Kok Boon is an artist born and working in Singapore. He won the Public Service Commission to study art in Goldsmiths College, London. His interests include blurring the boundaries between art and everyday life. As a young artist optimistic of uncertainties in the subject matter and media of engagement, he currently adopts painterly codes and the strategies of contemporary British painting to undermine the boundaries between banalities of everyday objects and uniqueness of art. His recent work 'Fast Food, Fast Play' manipulates McDonald's food packaging to produce hand-made cardboard toys shown in Art Bites! at the Esplanade and in Toys! at Earl Lu Gallery. His recent commission includes a 'Uniquely Singapore' sculpture made of french fries cartons modelled after the Merlion. His aspirations are to be an art educator and independent art critic.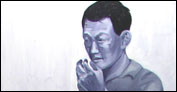 Ruangrupa
Ruangrupa, an artists' initiative founded in the year 2000 by a group of Jakarta based artists, is a non-profit organization which focuses on supporting the development of art in the cultural context through research, study and documentation, along with intensive cooperation with the artists through exhibitions, artist residency programmes, art projects and workshops.
They are open to any (visual) artist (group and individuals, Indonesian and foreign) who are willing to work in cooperation with them and who are enthusiastic about sharing different opinions, exploring and experimenting the artist's interaction with Jakarta urban life.
They work a lot together with many other artists, in a horizontal structure to support and mediate fresh ideas, addressing visual art as a cultural practice, which is interesting for debate in visual art and in relation to a social - cultural discourse, especially pertaining to Indonesian contemporary culture.
The founders of Ruangrupa are: Ade Darmawan, Hafiz, Ronny Agustinus, Rithmi, Oki Arfie and Lilia Nursita.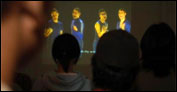 Sok Sak Group
Sok Sak is a collective of young Thai artists working experimentally across various mediums. Their work is usually site specific and the context evolving around human conditions and societies of today. The Sok Sak group was formed in 2000 by a group of students from the Faculty of Fine Art Chiang Mai University. However, they have now expanded to include others who are interested in sharing the their vision.
An example of their work involves researching historical places such as the Krong-Kan-Hui-Ku-Teen-Doi, its history and sociological impact today. At present, they continue to exhibit their collaborative installations with young Thai artists in Chiang Mai. They have been involved in a variety of projects throughout Chiangmai. This includes ONE DAY EU-KA-BEUK, 2 MONTHS CULTURAL SKETCH, in Umong Sippadhamma and MOTEL PROJECT with 13 artists and 11 DJs in Ta-pae Inn, Chiangmai. Next up for the group is ONE-YEAR PORJECT, an experimental community programme with the land foundation.
Their artwork speaks for itself with conversations between relationships in the social. Sometime they love to call themselves "Copy Genius". For them the things that they do is more about life activities that are fun and joyful.
Zog-Zag Village
Zog Zag Village is a project spear-headed by the Sok Sak group to strengthen community capabilities by establishing the cooperation between communities in various parts of Singapore. The activities will give Singaporeans a very good opportunity to express their ideas and to create relationships with others, while attempting to garner interest in the arts and culture. It also strives to narrow the societal gap that exists in any culture through familiarizing people with contemporary art through active participation.
Tsunamii
Formed in Singapore in 2001 by tsunamii.net, artists, Tien Wei Woon (*1975 Singapore) and Charles Lim Yi Yong (*1973 Singapore) and Scientist, Melvin Phua (*1975), tsunamii.net came from lots of discussion about current state of Singapore and how it was gearing towards technology to define and rebuild itself. Through these discussions, they soon realized that there was a vacuum in this area of discourse within the arts community. As such, tsunamii.net become a platform to address and investigate this technological phenomenon.
Since then the theme of the Internet and geography has been prominent in their series of work, the alpha 3 series. Their exhibitions (selected) include: Documenta 11, Kassel Germany (2002), Media City, Seoul, Korea (2002), Nokia Singapore Art, Singapore Art Museum, Singapore (2001). tsunamii.net is currently working on alpha 3.8 translocation a net commission awarded by the Walker Art Centre (2003). They are constantly looking for people/Individuals interested in their projects or proposing a project. Currently, they are quite interested in 'exploring' more about the 'internet structures' and 'technological-after-effects'.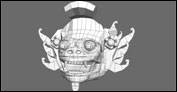 Sakarin Krue-on
Sakarin Krue-on is the director of the Thai traditional art department at Silapakorn University, Bangkok, Thailand. He is an expert craftman in Thai traditional technique of painting, sculpting and decorative art. He has represented Thailand in the Venice Biennale in 2003 under the direction of Dr. Apinan Poshyananda.
Sakarin has taken the traditional Thai art form into the contemporary art scene by incorporating it into computer and graphic design. In his recent work, Sakarin creates video installation based on Thai mythology.
Sakarin lives and works in the Rajaburi province, Thailand.
Agung Kurniawan
Born on March 4, 1968 in Jember, East Java, Indonesia, Agung Kurniawan currently lives and works in Yogyakarta, Indonesia. Educated in Archeology and Graphic Art, he has actively organized various solo exhibitions and participated in numerous international exhibitions. Some of his recent selected group exhibitions include Chejun Pra-Biennial, Chenjun Island, Republic of South Korea, 1995; Asia Print Adventure 1998, Hokkaido Museum of Modern Art, Sapporo, Japan; Crossing the Border, Galieria Jangva, Helsinki, Finland, 1999; traveling exhibitions to Australia, Japan and Europe; and Reformasi Indonesia, Protest in Beeld 1995-2000, Nusantara Museum, Delft, The Netherlands, 2000.
He has garnered a number of awards through the years. Among them, 1992 Best Print, VI Dies Natalies, Indonesian Institute of Arts Yogyakarta, Indonesia; 1994, Best Print,
Mc Donald Awards, 2nd Lustrum, Indonesian Institute of the Arts, Yogyakarta, Indonesia, 1996, Jurors' Choice, Philip Morris Group of Companies Indonesian Art Awards, Jakarta, Indonesia and an Honourable Mention at the 1996, Philip Morris Group of Companies ASEAN Art Awards.
Ripple Magazine
Ripple Magazine was first created in 1999 by an artist's community, which has the same interest in surfing activities. They also have a company called Flatspills Lab. in the earlier days, Ripple Magazine was a promotion media for one of Flatspills' sub company, 347 boardriders.co (now more famously known as EAT), which deals in clothing and merchandise. It was focused on the youth-media who has a strong interest in knowing what was happening in underground activities, bearing in mind that during the Soeharto era it was impossible to release a magazine with underground exploitations.
To date, Ripple Magazine has released a total of 29 issues and are still giving support to and contributing to Indonesia's youth movements.
Richard KF Ho
Upon his return to Singapore after working for several years in Austria and Italy - the last two years being in Milan with Aldo Rossi, a world renowned Architect and Pritzker Prize Recipient 1990, Richard Ho established his own firm in 1991. His work abroad has been awarded prizes in a number of architectural competitions. He was awarded a GOLD MEDAL in the ARCASIA (Architects Regional Council of Asia) Architecture Awards 1999-2000, an Asian-wide award held biennially to acknowledge exemplary architectural work in Asia. Richard is the first and so far, only Singapore architect to be accorded this honour. His practice has also been awarded the Singapore Institute of Architects Design Award in 1995 and again in 2001. In 2000, Richard was awarded a Honourable Mention in the Kenneth F. Brown Asia Pacific Culture and Architecture Design Award Program, an international architectural award program, which sought works of architecture that created a quality environment for the people and contributed in a holistic way to their well being. Besides practicing architecture, Richard is also appointed as Adjunct Assoc. Prof with the National University of Singapore and teaches Architecture and Urban Design in the Master of Architecture course. Richard is one of seventy visual artists, film directors and architects invited to exhibit his works at the "Cities on the Move" exhibition at the Secession Museum in Vienna in November 1996. This Exhibition was subsequently staged in Bordeaux, France; New York, USA; Copenhagen, Denmark; London, UK; and Helsinki, Finland.
Su-en Wong
Su-en Wong was born in Singapore in 1973. She grew up with aspirations of becoming a ballerina. At age 16, Su-en left for the United States to embark on a career of piano performance. She soon discovered stage fright, as well as an affinity and true love for painting and drawing. She gladly changed career paths once again, and in 1997 she received her M.F.A from the School of the Art Institute of Chicago. Su-en has had solo exhibitions at SAVAGE, Portland; Deitch Projects, New York; Stefan Stux Gallery, New York; and Zolla / Lieberman Gallery, Chicago. She had her first solo museum show at the Art Gallery of Ontario in Toronto, Canada, and has participated in her first biennial, the 2000 Kwangju International Biennale. Su-en is the recipient of artist grants from the Joan Mitchell Foundation, the New York Foundation for the Arts, the Marie Walsh Sharpe Art Foundation, and the Skowhegan School of Painting and Sculpture. She lives and works in Williamsburg, Brooklyn, where she happily looks forward to having a car and a dog.
Su-en Wong's paintings are self-portraits that explore the uneasy transitions between childhood, adolescence, and maturity. Often expansive in scale, her paintings on canvas, paper, and wood primarily feature a lone figure isolated within a minimal field of pastel colour. The works are imbued with social and sexual stereotypes, which are used to explore the conflicting positions of power and vulnerability within the artist's life as a young Asian woman.
Jompet
Since 1990, Jompet has been a musician for bands, movies, theatre, and performance art. From 1997 to 1998, he produced 4 music albums. Having studied video and television he graduated with a diploma in Broadcasting from the Gadjah Mada University, Jogjakarta in 1999.
In 1998, he joined the Jogjakarta-based theatre group Teater Garasi as a musician and now works as a visuals designer for the group. His first performance art work entitled I'm sorry, I'm so fucking sorry (1999), was a collaborative piece with 'Performance Factory', a group of young people who work with music and theatre. He also collaborated with Geber ModusOperandi (a performance art group) in 1999 and with a choreographer, Bimo Wiwohatmo in 2002. Jompet established a collaboration project, Garden of The Blind between 2000–2002, a collaboration between a multimedia artist, electronic engineer and mechanics, in which 3 titles of the performances were produced. He also works as a video editor and freelancer in some NGOs, working on Community Based Forestry System issues.
During the period of 1999–2002 sound, video and machinery was the main materials for his performances. His latest work, '1hr 2b oth3r' (2003 - 2004) mainly explores interactivity and communications.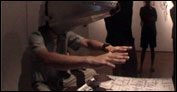 About TV
AboutTV is a non-profit, web-cast station, based in Bangkok, Thailand, developed by About Art Related Activities (AARA) in collaboration with Superchannel.
AboutTV aims to function as an open platform for local people and communities to produce and participate in the production and broadcasting of interactive Internet TV. The contents of AboutTV emphasis on interrelated issues and various disciplines in the field of contemporary art and culture in Thailand and reflect current issues and movements in both local and international art scene.
SLEEPLESS IN SINGAPORE
Oct 2, Live streaming with 'SLEEPLESS IN SINGAPORE' hosted by Insomnia48's curator Ong Keng Sen, in collaboration with Bangkok's AboutTV, from 10 pm to 4 am. A virtual tour with Insomnia48 artists and the public onsite. Watch it from the comfort of your homes on www.theatreworks.org.sg.