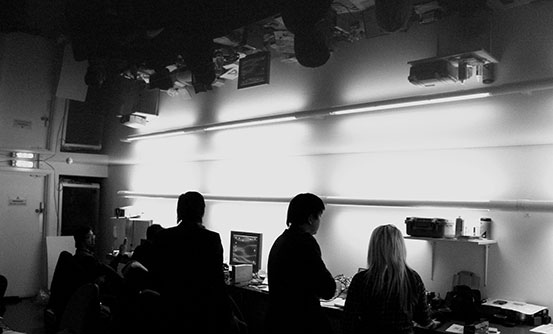 25 February– 12 March 05
INSOMNIA
Institute of Contemporary Arts (ICA), London
Curated by Keng-Sen OngOrganised by TheatreWorks Singapore
Sponsored by National Arts Council, Singapore
The ICA invited Asia's prominent director Keng-Sen Ong to bring his performances to London as well as to curate a season of contemporary work from Phnom Penh, Bangkok, Jakarta and Singapore. Just what is Insomnia? His response:"Insomnia hints at brave new worlds where artists are making a political statement by retreating from the bastions of overt politics to highly personalised and individual expression. Terribly free in their irreverence towards genre, they are glib and savvy, embracing the language of globalisation, consumerism, appropriation without guilt and with a deliberate naiveté, which is refreshing in the face of the gloom and doom of world politics."
---
25 - 27 February
Insomnia Opening Party
KYTV presents "The P.O.P. Station" with Tiramisu
Guests were given the opportunity to make and keep their own music videos with Singapore's funkiest art collective KYTV (Kill Your TeleVision). The evening also featured guest appearances by Tiramisu, the indie band that enjoys cult status for its throwback retro-fusion of performance art and rock n roll.
---
25 - 27 February
The Continuum: Beyond the Killing Fields
Conceived and Directed by Keng-Sen Ong
Based on Pol Pot's massacre of the royal court dancers of Cambodia, this documentary performance told the real life story of seventy-five year old Em Theay, master dancer of royal classical dance in Cambodia, using shadow puppets, music, and dance.
---
4 & 5 March
Performance: Dramatising Ayu Utami's 'Saman'
Directed by Meng-Chue Lok
Likened to the TV series 'Sex And The City', Utami's Saman focuses on the intertwining stories of four young women who make life-decisions and discuss their personal desires in an open manner, unheard of in Indonesia, the world's largest Muslim state.
---
9 March
Performance-Lecture by Alfian Sa'at
Mengapa ISA? : Why ISA? ; The Optic Trilogy; Asian Boys Vol. 1 & 2
Mengapa ISA? or "Why ISA? " exploits a certain slippage in the language of propaganda to exhume the subtext of Singapore's recent anti-terrorism drive. This live action by Alfian himself raises questions on the nature of martyrdom, violence and innocence.
---
10 - 12 March
The Global Soul – The Buddha Project
Conceived and Directed by Keng-Sen Ong
The Global Soul brought contemporary mobility and ancient cultural treasures together in a trip with no return ticket. Traditional, classical and contemporary artists, ancient operatic styles mingled with visual contemporary performance, enveloped in a pulsating computer-generated soundscape.
---
11 - 12 March
The ism talk show with Najip Ali
Najip Ali's vision to unite and entertain the Malay speaking countries in Southeast Asia was realized in his creation, TV: ism, an entertainment and news-packed programme. In London, Najip shared his vision and his take on 'ism: transcending borders' in his usual high energy and madcap fashion.
---
11 - 12 March
Performance/Drag Queen Galore
Dramatising Alfian Sa'at's Asian Boys Vol. 1
Directed by Meng-Chue Lok. Starring Kumar.
Asian Boys Vol. 1 is a play that attempts to narrate a revisionist history of Singapore via a queer perspective. Utilising August Strindberg's 'A Dream Play' as inspiration, the play harnesses camp aesthetics, kitsch, as it problematises State prescriptions of homosexuality as the Western Other.
---
4 & 5 March
flo + out
flo + out is a live music and video installation by Toru Yamanaka, renowned composer of Japanese cult performance group, Dumb Type, in collaboration with video and lighting artist, Kyota Takashai. It made its London debut at the ICA.
---
25 February - 2 March
Reading to Corpses
In an eerie video installation, video artist Araya Rasdjarmrearnsook reads to the corpse of a woman who died in anonymity, sending her off on her journey from life to death.
---
27 February
Araya Rasdjarmrearnsook In Conversation
Born in 1957, Araya has been shown widely but never in the UK. Her shows have been put on in major contemporary venues include Tensta Konsthall, Stockholm; the Kiasma Museum of Contemporary Art, Helsinki; and the Yerba Buena Centre for the Arts, San Francisco.
---
25 - 28 February, 1 March
It's a Girl Thing
Su-en Wong
Singapore-born and New York-based artist Su-en Wong's work explores the uneasy transitions between childhood, adolescence, and maturity through the use of the self-portrait. Imbued with social and sexual stereotypes, her paintings explore the conflicting positions of power and vulnerability within the artist's life as a young Asian woman.
---
1 March
2 South Seas, 3 Chairs, 4 Suits
Performance-Lecture: Tzu-Nyen Ho
2 South Seas is a revisitation of the trip made by Singaporean artists to Bali in the 1950s that led to the construction of a 'Nanyang' or South Seas Style. This trip occurred echoes Paul Gauguin's legendary visit to the 'Southern Seas' of Tahiti some 60 years earlier. In 4 Suits, Tzu-Nyen Ho re-tells a history of repetition and difference by tracking the recurrence of the motif of the 'suit' beginning with Joseph Beuys' celebrated Felt Suit (1970) that embodied Beuys' personal myth of artistic rebirth.
---
2 March
Utama – Every Name in History is I
Performance-Lecture: Tzu-Nyen Ho
Utama – Every Name in History is I is an attempt to summon forth the 'ghost' of Utama through videos of art pieces, a way of putting pressure on the dominant discourse of history that remembers only Sir Stamford Raffles.
---
3 - 6 March
The Alpha 3 Series, Crush and Sea Stories: Buoys
Exhibition by Charles Lim
The Alpha 3 series maps physical location onto cyberspace, exploring real and virtual connections and boundaries and where the two overlap. Crush involves the physical destruction of a web server, which counted itself down to doom under a five-tonne industrial crusher. Sea Stories: Buoys looks at the re-marking of borders on international waters as a result of Singapore's land reclamation projects and examines the politics surrounding this phenomenon.
---
5 March
Charles Lim In Conversation
Charles Lim is a contemporary web-based artist who lives and works in Singapore. He is one of the founders of Tsunamii.net formed in 2001, a platform to address and investigate the phenomenon of Singapore using technology to redefine and to rebuild itself.
---
5 - 7 March
Ancient technologies - Thai traditional painting
In this workshop, Thai artist Sakarin Krue-On, demonstrated a way to slow down and meditate through painting. He talked about the specific materials used in traditional Thai painting and then talked about ways of adapting this ancient practice to personal work.
---
5 March
Inspirations from the Temple
Sakarin will provide an introduction into Thai traditional art practices such as painting, sculpture, gold leave ornamented works through slides and lecture. In particular, he will focus on the art sited in Thai temples, pagodas and the great mural tradition.
---
6 March
Buddhism and New Technologies
Sakarin Krue-on In Conversation
Sakarin has taken the traditional Thai art form, Buddhistic art, into the contemporary art scene by developing unique styles of integration with today's technologies of computer graphics and animation.
---
6 March
ISLANDHOPPING – UK Leg (2005)
Performance-Lecture: Kai-Syng Tan
For the ICA in London, Kai-Syng Tan presented a meta-reading-cum-interpretation of his DVD, ISLANDHOPPING, commenting on the world in a no-holds-barred way.
---
8 - 12 March
ISLANDHOPPING (2002 - 2005)
Exhibition by Kai-Syng Tan
ISLANDHOPPING (2002-2005), a collection of various forms of documentary, questions existing hegemonic structures of cultural, social, historical and political landscapes through the construction of platforms for discourse and spaces of tension.
---
12 March
The End of Travelling and Other Works
Talk by Heman Chong
Focusing on the theme of travel, Singaporean artist Heman Chong took the audience on a journey through his explorations and works like The End of Traveling.
---
3 March
Transcending the Culture of Shame: Sex and the City in Jakarta
Ayu Utami In Conversation
Ayu Utami, Indonesian literary sensation, treats social taboos in an open way, writing freely about love and sexuality, as well as ethnic and religious tensions, and breaking with the Indonesian literary canon.
---
7 March
Fundamentalism and Enlightenment
Ulil Abshar-Abdalla In Conversation
Ulil Abshar-Abdalla is the leader of the Liberal Islam Network (Jaringan Islam Liberal) of Indonesia, arguably the most progressive Muslim organization working in Indonesia today. It is has a weekly radio programme as well as published essays that discuss moderate interpretations of Islam.
---
8 March
Polygamy Today
Ulil Abshar-Abdalla and Dr Musdah Mulia In Conversation
In a searing conversation, hosts Ulil Abshar-Abdalla, the rising star of liberal Islamic philosophy, and Dr Musdah Mulia, Muslim women's rights advocate, openly discussed gender in relation to religion, society, culture and everyday life in South East Asia.
---
12 March
The Pink Dollar in Singapore: Capitalist Pragmatism in The Nation
In Conversation with Alex Au, Alfian Sa'at and Stuart Koe
This conversation explored the increasing acceptance of the Pink dollar in Singapore; and traced the process of how gay businesses are 'mainstreamed' and made acceptable in the name of capitalist pragmatism despite homosexuality being illegal and deemed a crime.
---
FILMS by LEXY JR
25 - 27 February
The Legacy of Violence
The prize-winning documentary films of Lexy JR
Lexy JR award-winning documentaries were shown at the ICA as a triple bill. Mass Grave records the unearthing of a mass grave containing victims of the purges of 1965-66 carried out by the Suharto regime on alleged communists. Bade Tan Reuda deals with the war widows of Aceh, a separatist state that has been muzzled by the Indonesian military. Youth on the Edge, a documentary about the youth of Sumbawa Island, east of Bali, is perhaps his most chilling.

28 February
Stage Limit
This is a film on the disappearing people in Indonesia who were kidnapped by Indonesian Special Forces.
Songs from the Heart
The short film recounts the lives and aspirations of the community of scavengers living in the Bantar Gebang garbage dump.

29 February
2.5 Billion Dollars for the State
This documentary centers on Indonesian women migrant workers in Hong Kong who tell their own stories of exploitation at the hands of greedy agents, cruel employers and the unjust system.
---
25 & 27 February
The ok generation
Just as it did in its first video festival, the OK Video Festival, Ruang Rupa broke through the arty crowd at the ICA to attract young people who saw video as a dynamic, fun expression of themselves and their environment.
---
26, 27 February
Video Babes and the BCFNMA
London audiences joined Video Babes, Ariani, Prilla and Rani in their fantasies as they grew "9 cm taller" and met the gaze in "Silenced". The work of Bandung Centre For New Media Arts (BCFNMA), a collective of artists based in Bandung, was also showcased.
---
26 & 27 February
Morphing Consumer Taste: Biosampler Music Videos
Biosampler is a multimedia performance group that meshes light, sound and space together with various intentions and meanings. At the ICA, they presented an hour of their super-cool music videos for the first time in the UK.
---
26, 28 February
The shorts of Tintin Wulia
One of the brightest lights of Indonesian short film, Tintin had a number of her shorts screened at the ICA. Her best known, prizewinning short Ketok (2002) explores new forms of moving image inspired by traditional shadow puppets. Violence Against Fruits (2000) explores the dilemma of Indonesian Chinese who face rampant racism in a country they call home.
---
27, 28 February
Forum Lenteng:"The Massroom Project"
Founding member of Ruangrupa, Hafiz, constitutes a new video collective to explore the urban poetics of his city Jakarta. The nine videos, created by Indonesian journalism students, are records of diversity and an exhilarating celebration of the mother-city Jakarta!
---
1 - 2 March
Afterlife
Afterlife is a series of documentaries made by filmmakers from around Asia, 4 of which were shown at the ICA. The documentaries are personal and in-depth, looking at death and the afterlife, as well as the diverse range of burial rites across Asia.

Attending Death; Dir David Moggie, Malaysia, 2004
Soul Custodian; Dirs Nan Achnas & David Moggie, Indonesia/Malaysia, 2004
Shopping for Death; Dir Can To, Hongkong, 2004
Praying for Prey; Dirs Ashim Ahluwalia & Pin-Pin Tan, India/Singapore, 2004
---
1 March
Studio Kasatmata: Homeland
This is the first feature-length animation film from Indonesia, produced by Studio Kasatmata, a collective of youth who have a vision to explore new forms of expression in digital 3D animation. Homeland is a story that deals with questions of mortality, patriotism, friendship and nationhood.
---
3 March
The Gods Must Be Hungry
Dir Jason Lai, Singapore
The documentary gives a whole new perspective of food as it takes an appetizing exploration into the practices of feeding gods to appease them, to gain their favour or to express one's gratitude. Londoners were made to see the world of food and gods in a whole new light!
---
Apitchatpong Retrospective
Thai filmmaker Apitchatpong Weerasethakul is arguably one of the brightest stars in Asian cinema. Six of his critically acclaimed films were screened as part of Insomnia.

4 March
Tropical Malady
Tropical Malady won a Jury Prize at the 2004 Cannes Film Festival. It is a horror story that disguises a disturbing sexual political agenda between two men.

5 & 6 March
Mysterious Object At Noon
Mysterious Object at Noon, shot on an expedition across Thailand, documents the lives of the people of the country. Without the use of a script, the people 'wrote' the story with total freedom of expression.

5 & 7 March Blissfully Yours
Blissfully Yours, which received the Un Certain Regard prize at the Cannes Film Festival 2002, is set against the political backdrop of the harsh crackdown on illegal Burmese immigrants in Thailand.

10 – 12 March
The Adventures of Iron Pussy
The Adventures of Iron Pussy is an action-packed comedy-thriller that tells of the adventures of crime-busting heroine, who was once a go-go boy.

5 & 6 March
Bonus Track: Apitchatpong's sketches, shorts, video art, experiments
For the first time, a comprehensive collection of all Apichatpong's sketches for his features and other shorts were gathered together for a historic showing during this retrospective.
---
1 March
The Video Battles of Titiktiga
Dirs Zulhan Sasmita Kurniawan and Wimo A Bayang, Indonesia
Titiktiga, a Jakarta-based institution working in independent grunge film and video art, had many of its videos screened at the ICA including the feature Video Battle.Punk Movie, which has become famous as the local 'rebel without a cause' movie, has punk-rebels playing themselves in a fictional narrative. Ayis (About Me, About U) is a documentary on 13-year-old Ayis, who has grown up in the Beringharjo Market in Jogjakarta, exploring his social and emotional relationships with people around him.
---
2 March
Just a Second: The Khong Legend
Three of the works of Thai performance and video artist, Santiphap 'Jay' Inkong-nam, were presented. Monks & Me is a documentary made by a group of young monks from different temples in Chiangmai who filmed each other in conversation and offered an illuminating look at their world. Yong in Transition is a documentary that zeroes in on the little-known people of the Yong Tribe, Burmese settlers in rural Thailand who struggle to preserve their identity in a fast-changing world. Just a Second: the Khong Legend is the product of collaboration between artists from 6 countries in the Mekong Region. Inspired by the theory of relativity, it considers the definition and meaning of 'goodness', using the Mekong River and the Naga in a symbolic fashion.
---
3, 12 March
Insomnia Shots: Moving House and 80km/h
At the ICA, two of Pin-Pin Tan's works were shown, both reflecting on the concept of mobility and travel of sorts. In Moving House, the Chew family is one of 55,000 Singapore families forced to relocate the remains of their relatives to a columbarium, as the gravesite is needed for urban redevelopment. 80km/h takes the viewer across Singapore, end to end in one take (no cuts) at a constant speed of 80km/h. The lampposts along the Pan Island Expressway provide the visual beats, and the flapping tudungs of the pillion riders, the drama.
---
4 & 5 March
Insomnia Shots: Goddess of the Neon City
Director Choon-Hiong Ho's three shorts at the ICA display his distinct guerilla-approach and his interest in personal documentaries. In the prize-winning Innocent, Ho documents the funeral of Li-San Gek, a baby-sitter, who committed suicide to prove her innocence in the face of charges of child abuse. Ho races against time and the grim prospect of urban development to understand the memory of a German Girl who died more than 80 years ago on a rural island off the coast of Singapore, only to be worshipped as a Taoist goddess in a local temple.In Goddess of the Neon City, Ho exposes the underbelly of Singapore Central Business District (CBD) and the CBD's best-kept secret - Clifford Beer Park. This nonchalant al fresco structure that serves as a food court for white-collar workers in the day transforms itself into a sleazy nightclub in a beer garden that oozes 70's nostalgia.
---
4 & 6 March
Insomnia Shots: Unarmed Combat
Director Yew-Kwang Han excels in satire and possesses an eye for uncovering the mirth in supposedly mundane Singapore. In the first of his shorts screened at the ICA, Pinball, Huang, a middle-aged man, has a problem - his 20th Wedding Anniversary is fast approaching and he has to fulfill a promise that he made to his wife—to bring her around the park on a bicycle. There's just one problem: Huang cannot ride a bicycle! The Call Home is Han's prize-winning short where, against character, he leaves behind humour to shed light on the lives of foreign workers in Singapore. We discover their world through the eyes of Kasi, an impressionable Indian construction worker. Unarmed Combat is a camp, satire of human obsession. Metal works late every night and is afraid to return home to his stalwart wife who is determined to win the Singapore Woman's Arm Wrestling Competition. She trains intensively everyday and forces him to join her in doing so.
---
7 March
Insomnia Shots: Lunch Time
Four shorts by Li-Lin Wee, SingaporeA social misfit in Norman on the Air comically confesses to a failed romance on a national radio show. A hawker centre girl selling chicken rice at Lunch Time contemplates her infatuation with a professional man and wonders how their worlds can connect. Meanwhile in Holiday Year, Li-Lin Wee examines the immediate hours following a man being retrenched from his job. In tough times, one's job may be indispensable, but is one's life indispensable as well? Finally two 12-year olds are forced to question whether their friendship is worth keeping over an Autograph Book.
---
8 March
Insomnia shots: Homecoming and Andy Forever
Frankie Ng's documentary Homecoming is personal, disarming and intimate. He makes a film portrait of his grandmother who long ago exchanged her life in a village in China for a future in Singapore. The grandmother is a powerful and willful woman, a real film personality.
Andy Forever is a video comprising every death scene in the history of Hong Kong star Andy Lau's acting career. Played on continuous loop, Andy Forever highlights the power that cinema possesses to repeatedly kill and resurrect an actor. Dirs Emily Chua and Rutherford Chang, Singapore/USA
---
12 March
Insomnia Shots: Locust, Eve of Adha and Exodus
Locust is a short lyrical piece of one's memory of a momentary encounter that brought back both fondness and bitterness. Lamentation is likened to a melancholic poem, a song of remorse and separateness. Directed by Victric Thng, Singapore. A prayer mat, devotion, hallucination, blood, cleansing oneself, purity, contamination, sharing a dinner, the colour of your skin, the grocery store next door. Eve of Adha is directed by award-winning Singaporean writer/director, Leonard Yip.Exodus is a dance film showing the encounter between a working-class Chinese shampoo girl and a Javanese court dancer that sparks an awakening manifesting the dialectic of obsession and transience of human affection. Directed by Sherman Ong, Singapore.
---
PRIVATE AND CONFIDENTIALCOPYRIGHT THEATREWORKS (SINGAPORE) LTD
No part of this document is to be reproduced or disclosed without the permission of TheatreWorks
Correct as of 29 July 2005