Watch the Video Clip
[Contact us for full version]
Vivien and The Shadows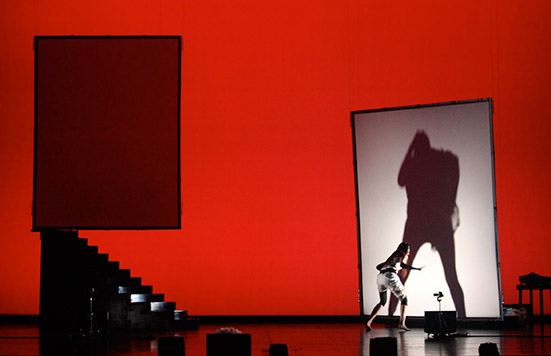 Vivien and The Shadows
World Premiere, 21 October 2008
Memorial Hall, Carolina Performing Arts, University of North Carolina at Chapel Hill
Vivien and The Shadows will be presented in Singapore in 2009!
Commissioned by Carolina Performing Arts with support from the National Arts Council's International Collaboration Grant (ICG)
"Ong Keng Sen is one of Singapore's...cultural jewels."
- The Guardian, UK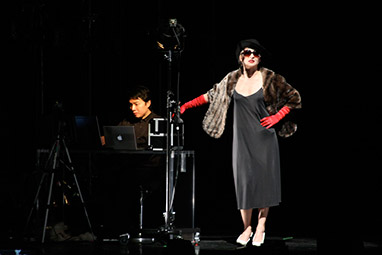 Vivien and The Shadows is a soul-stimulating post-modern spectacle that melds film/performance, race, gender and sexuality.
Inspired by the 1951 film adaptation of Tennessee Williams' A Streetcar Named Desire, Director Keng Sen gathers some of the best talents in global performing arts and transports us into the fantasy world of Vivien Leigh's Blanche DuBois.
He is accompanied by multiple OBIE-winner Karen Kandel, art-burlesque star of the New York underground Julie Atlas Muiz, and the charismatic Charlotte Engelkes from Stockholm. This time round, Keng Sen also returns to the stage and plays an Asian accountant in New York City who transforms to drag queen when sun downs.
The play is penned by acclaimed US-based Singaporean playwright Chay Yew and explores the relationship between copies and originals.
In an interview with Straits Times Life! on 11 August 2008, Keng Sen mentioned that the play is "a homage to Leigh and yet it is its own play". He said, "We've created a new character, which is simultaneously an original and a copy. We are treading the fine line between the two things." The art of copying is sublime.
With a talented ensemble that includes soundscapes by pioneering London electronica artist Kaffe Matthews; sizzling videos by CalArts media artist Brian Gothong Tan; set design by Justin Hill; and lighting by Scott Zielinski, Vivien and The Shadows enjoyed a successful premiere in the US and will be re-staged in Singapore in the later half of 2009.