13.13.13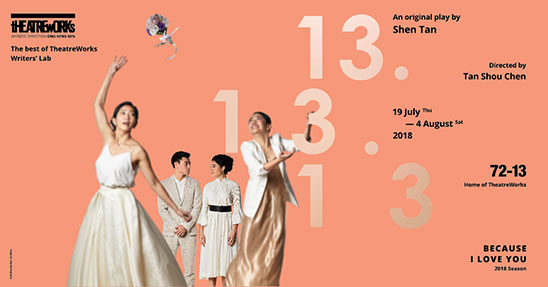 13.13.13
By Shen Tan
TheatreWorks BECAUSE I LOVE Season opens by exploring the form and substance of relationships in 13.13.13, digging into the tenuous bonds that bind and betrayals that break.
William and Samantha live a good life. They have the perfect arrangement – William doesn't want marriage and Sam doesn't want kids. Lynn, William's ex-girlfriend and now oldest best friend, desperately wants to marry but cannot. Lynn also wants children. William does what he believes is reasonable to help his oldest friend with what she wants.
Life is almost perfect for William and Samantha as they live together in un-married bliss till things unsaid, and things agreed, unravel their agreement. 13.13.13 explores the form and substance of relationships, digging into the tenuous bonds that bind and betrayals that break.
Director: Tan Shou Chen
Performers: Sharda Harrison, Thomas Pang, Chanel Chan and Jo Tan
13.13.13 is an original play that was developed in the TheatreWorks Writers' Lab. It is written by Shen Tan, who fell in love with theatre in secondary school after her first script was staged. After a detour to audio engineering, she returned to her first love. Winning the TheatreWorks 24-Hour Playwriting Competition for another play provided the opportunity to develop 13.13.13. In the Writers' Lab, Shen was mentored by Tony Perez and 13.13.13 received a public reading last year.
Conceived by Artistic Director Ong Keng Sen in 1990, the Writers' Lab has been pioneering in encouraging and developing Singapore playwriting with its varied as well as far-reaching programmes. The Writers' Lab aims to provide exceptional first-time and emerging playwrights with oppoturnities to hone their creative writing skills through an incubating environment.
For more info, visit www.becauseiloveyou.sg
Performance Details:
Date: 19 July to 4 August 2018
Time:
8pm, Thursday to Saturday
3pm, Saturday
Venue: 72-13 Mohamed Sultan Road Singapore 239007
Rating: Advisory 16 (Mature Content and Some Coarse Language)
Tickets:
$38 (Standard)
$25 (Concession for students, NSF, seniors above 62 years old and Persons with disabilities)
Prices excl. SISTIC Booking Fee
Tickets available at all SISTIC channels. Email ticketing@theatreworks.org.sg for discounts on group bookings of 20 or more tickets.
Presented by
With Support from