THE WRITERS' LAB
24-Hour Playwriting Competition - 2014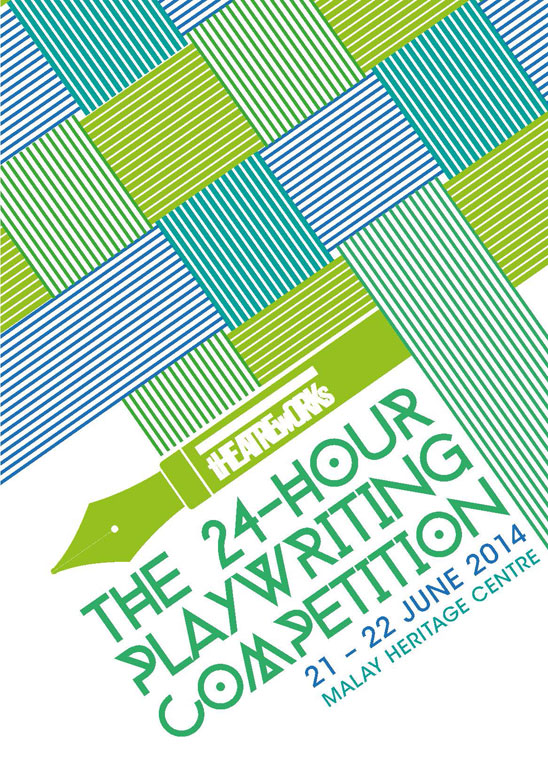 24-Hour Playwriting Competition 2014
occupies
The Malay Heritage Centre
Do you have an idea for a play?
Set it free at the 24-Hour Playwriting Competition 2014!
The ever-popular 24-Hour Playwriting Competition challenges participants to write a play within 24 hours. This year's competition is the 17th edition!
It will be held at the iconic Malay Heritage Centre situated in the heritage precinct of Kampong Gelam. The centre is a significant and vibrant venue, which showcases the culture and contributions of the pioneer Malay community to the development of Singapore. With its rich history embedded in the artefacts, installations and exhibitions, the Malay Heritage Centre will inspire our aspiring playwrights to create new writing.
The competition was at another Heritage centre, the Sun Yat Sen Nanyang Memorial Hall in 2013.
One of the winners will have his / her winning play nurtured and developed by theatre professionals to a full production. This production will be taken on a performance tour primarily in the South East District in February and March 2015.
Organised by the TheatreWorks Writers' Laboratory in partnership with South East Community Development Council, the 24-Hour Playwriting Competition is part of TheatreWorks Writing & Community.
Date
21 – 22 June 2014
Time
4pm – 4pm
Venue
Malay Heritage Centre, 85 Sultan Gate, Singapore 198501

Competition Categories:
Youth: 15 – 18 years old
Open: 19 years old and above
Registration Fees:
Youth Category: S$30
Open Category: S$40

Prizes for each category:
1st Prize: S$700
2nd Prize: S$500
3rd Prize: S$300
Merit: S$100
Registration is NOW OPEN!
Submit your application form to tworks@singnet.com.sg by 7 June 2014.
There are only 70 slots available.
Organised by:
In Partnership with:
Venue Partner:
Engagement Programmes Sponsored by:
Kuo Pao Kun
Foundation


With Support From:
---
Find out more about other Writing & Community 2014 programmes: